Desert safari is one of the most common tours a traveler could do when in Abu Dhabi, actually it comes on the top list of must to dos while in a trip to Abu Dhabi. But what is behind ?!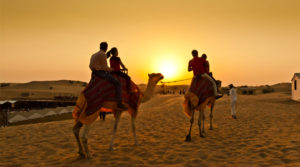 We come today with the best seven ideas to do within your safari trip at Abu Dhabi desert to make your touring experience unforgettable, So are you ready ?! Let us see that:
1. Camel Ride
It is known that camels are housed only in desert and over the mounts, so long ago; it was the main transportation mean in the vast desert of Arabia. people used to use them to travel and it was even may take several days to travel from a city to a neighbor one which now is reached within few minutes!
You for sure will not experience the toilsome traveling experience, But 15 minutes of riding a camel will be so much fine to feel how people used to be before centuries from now.
in addition to nice photos to share, riding a camel may be something to do once in lifetime!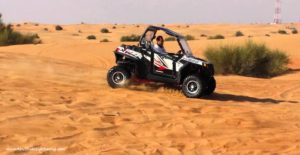 2. Quad Bike
If you were this type of adventurous people, and if you are ready to conquer the desert over a bike, this experience is totally designed for you. Try to ride a four-wheeled bike over desert dunes.
flame up enthusiasm spirit inside and go!
3. Sand Boarding / Skating
Being an Europe, North or South America rooted, you almost have tried the snow skiing before, But over sands ?! Have you thought about it once before ?!
It may be the time to do, sand boarding is really so cheerful experience to try when in a Abu Dhabi desert safari tour, I even could promise you that you have so much funny times when doing. But never forget to shower up when at home!
4. National Dress ?!
I am not sure here if you would love it or not, but is you are this kind of deep travelers, you properly will love to try the national dressing even for a quick photo session!
Get inside the local culture and feel it. By the way it is so much comfortable to forget the jeans after!
5. Attending a Belly Dance Show
It is no more a monopoly by Middle Easterners, But nowadays belly dance shows become a world wide language and activity to do! Many schools around the world open everyday to teach the belly dance techniques specially for women.
and while at Abu Dhabi desert safari you will have a nice opportunity to live the atmosphere of famous 1001 nights mythological book. specially it comes with charming oriental rhythm music!
6. BBQ Dinner
Food was always one of the best things to memorize a trip, and in desert we offer BBQ dinner from Arabian cuisine, Forget about diet or healthy food and enjoy the taste of grilled beefy with Indian spices. and after dinner, never forget a cup of Arabian coffee!
7. Camping
It needs a brave and adventurous spirit to stay away of your comfortable hotel for one night where the clouds will be your blanket and the pure sky is all what you could do among the darkness of a sprawling desert lighted only with millions of miles located stars! See a deep description of the experience of Dubai Night Safari
there are so much more activities to do but they were the best of them and this was really based on our guests feedback, But if you were out there before why do not share us your ideas ?!
Social Share